Our driver Mr. T had met us at the Phnom Penh bus station the night we arrived from Vietnam. He waited for us out front with one of those signs typically found in airports, held up by quiet limo drivers there for their first class bait.
"Tomorrow, do you want to go to
the killing fields
? I will drive you anywhere" he said as we pulled into our hostel.
"No, I don't think so," my wife, Alisha, said.
"Probably not," I replied.
We had other plans for our honeymoon, and while we did need Mr. T's ride and expertise, it wasn't to visit popular tourist attractions. "We want to go to the
Samai Distillery
," I told him. He looked confused, not sure why a couple of wandering Americans wanted to venture off the beaten path. "I am a correspondent for a craft spirits magazine and I'm hoping to interview the business owners."
It is possible to count the number of people making rum in Cambodia on one hand. There are two, to be exact, and they work under the same roof. I told my wife, two weeks into our honeymoon, that we weren't leaving the city until we met these guys.
The following morning, he called the distillery several times with no answer. "They are closed on Sundays," he told me after trying to call them some 15-20 times.
"We have to go anyway," I said. "I emailed them a few days ago and they said they'd be there at noon." I hoped they would show.
We headed out in the back of the tuk-tuk to Phnom Penh's Chamkor Mon District, shaded from the late morning sun but still sweating. Mr. T navigated the city's streets with the deft knowledge of a longtime local and the reckless abandon of an American teenager driving his mother's minivan. Fortunately for us, he knew the best spots to stop for a jug of Cambodia beer to quell the scorching heat, a ritual we repeated a couple times before we made it across town. Passing the Russian embassy, we pulled off the main road into a thin alley that zig zagged back and forth a couple times. Suddenly I saw the discreet sign on the front of a gate - Samai Distillery. "This is it!" I yelled and Mr. T pulled off.
Alisha and I stepped out of the tuk tuk and milled about by the gate for a few minutes, waiting under the small amount of shade in the alleyway. Two guys on motos appeared and pulled up next to us, "this must be them," I muttered.
We shook hands and they led us inside. "As far as rum, there was nothing here," Antonio Lopez de Haro told me as we stood inside the place and I took my first sip of his product from a wine glass. Remnants of the party from the previous Thursday, the one day each week that the place opens to the public, were strewn about. "Friday was a holiday, so we haven't had a chance to clean up." Antonio runs Samai Distillery along with business partner Daniel Pacheco. It is a craft operation, micro by any count and born of the two Venezuelan expats longing for the spirit they identified with. "We missed some of the rums from back home."
The two led us around the distillery while telling us their story. "Sugar cane is abundant here, and the molasses is very high quality," Daniel said. "They have the perfect raw materials for making rum and nobody was making it."
Their stuff has a sharp bite, the kind that hits the gut hard, sending a fervent note up to the brain that says, 'I'm drinking, get ready.' Despite that bite, the drink finished smooth and settled nicely.
Antonio and Daniel are trailblazers of sorts, skirting ahead of the curve on taxation and regulation. Adding to that is the fact that no one in Cambodia drinks rum. Daniel graciously poured Mr. T a sample while he waited for us to wrap things up. A look of sour distaste crossed his face as he took his first sip. He downed it like a boss, then looked at me like we had talked him into biting a lemon.
The two got a similar reaction from the government when applying for permits. "Even our lawyers that we hired to do research said 'There are no laws," said Daniel. "They listed us with the wineries, I think because they didn't know where else to put us."
As Phnom Penh continues to find its modern footing among Asian capital cities, small businesses (including many, like Samai, driven by expats) are beginning to crop up regularly among the city's budding skyscrapers. I talked Antonio into another pour. "How easy was it to move out here and get settled?" I said.
"It's too easy, I think that's the problem," he said. "It's the place to be. I was only supposed to be here for a month." Then the concept of the distillery came about. Despite a complete lack of distilling experience, the pair gave it a go.
"The government is going to come in and tax us, I'm sure they will," he said. "We are ready to work with them, work with other distillers. We'll work together to regulate." Finishing our second round of neat rum, we grabbed a bottle to go and left Antonio and Daniel to clean up and throw the next batch of product in the pot still. Heading about ten minutes up the road, we stopped at a café Mr. T knew well. He ordered a jug of Cambodia Beer and a plate of Lok Lak - steak strips seared quickly on a hot skillet, served with onion and anchored by a hot salad.
With a nice buzz going by this point, we took chopsticks and dug into the tender steak strips, dipping them in a bath of lime and black pepper sauce. Sliced red chili peppers added a welcome kick of spice. Mr. T grabbed leaves of lettuce by hand, wrapping the steak with tomato and sauce.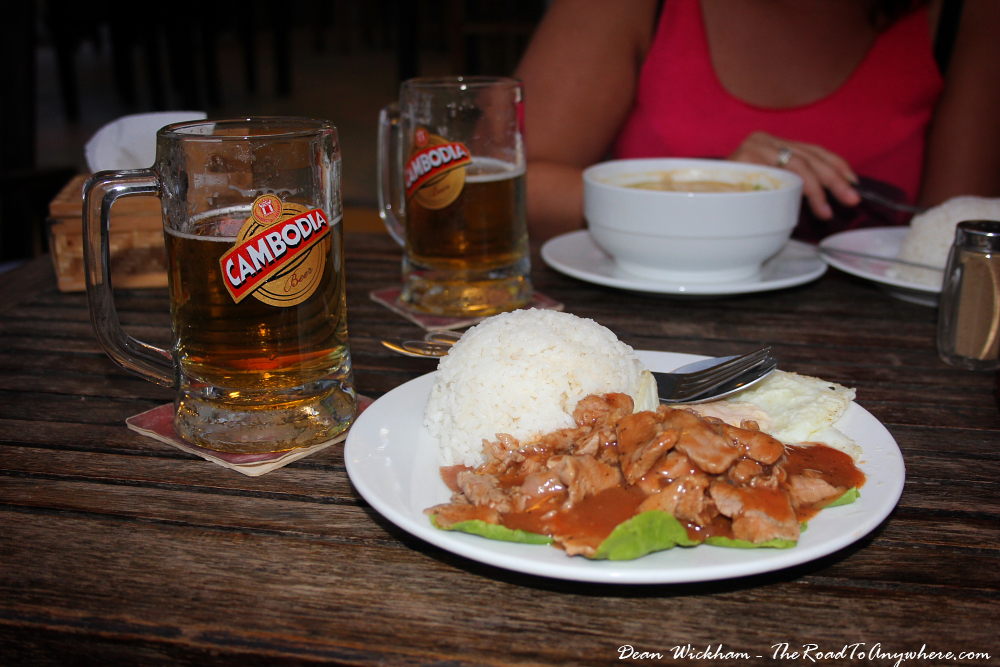 photo via www.theroadtoanywhere.com

The beer went down smooth. Another jug was ordered, and then another. Mr. T explained to us the finer points of
Pradal Serey
as it blasted from the television set hung in the corner of the bar. The place, and the city, struck a chord with me that I haven't felt anywhere else I've traveled. It seemed to welcome us.
Our next stop would be the
Foreign Correspondent's Club
, where we would drink imported rum on the terrace overlooking the Tonle Sap River with other tourists and a couple of Canadian expats we met earlier at the Russian market. "We can arrive late," I said, the both of us wanting to enjoy our time with Mr. T. as long as possible. Alisha nodded in agreement while downing another pint.
Tim Wenger is a Denver-based microshiner, journalist, musician, and avid snowboarder. Check in with him at @timwenger1 and catch more of his work at Colorado Music Buzz, Snowboard Colorado, and his weekly talk show on
worldviral.tv